KIDS® (Clinker Inlet Distribution System)
The KIDS® is a revolutionary technology in clinker cooling both mechanically and process wise. It generates a uniformly distributed clinker bed just before the clinker reaches the mobile grate by evenly spreading the clinker and transporting the fines to the upper layer.
The objective of KIDS® is to condition the clinker bed for the best possible aeration in terms of pressure drop and micro dispersion of cooling air. The air saturated clinker bed thereafter readily follows each stroke of the movable grate.
The surface of the KIDS® is equipped with patented Coanda Wing® technology. Coanda Wings® are designed for optimal air flow which significantly reduces turbulence through the grate. The Coanda Wing® surface is particularly suited for the extreme operating environment at the clinker cooler inlet and it provide highest impact resistance against heavy coatings from kiln.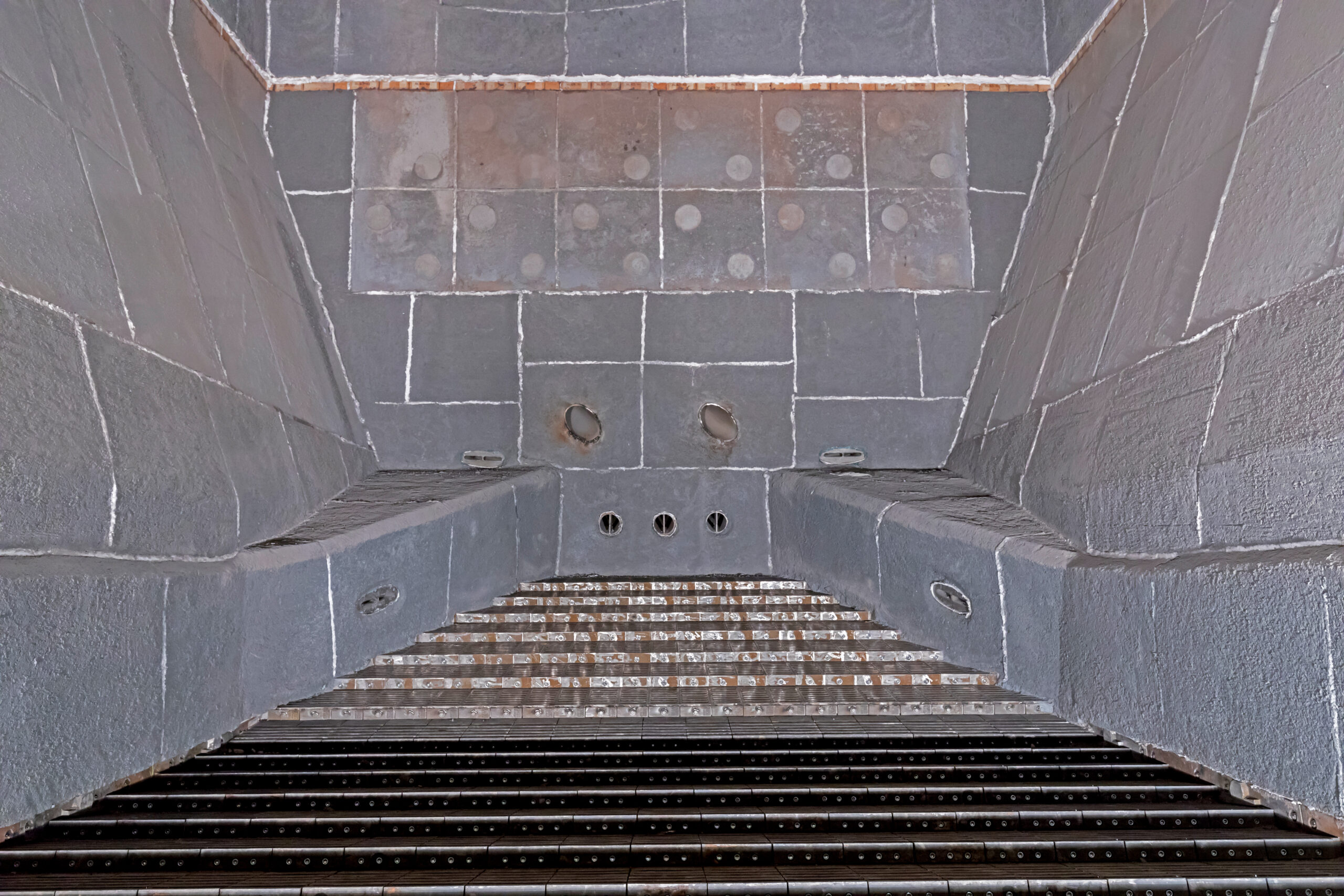 With more than 700 installations worldwide, the KIDS® is ready for the next generation.
Reliable operation is a key factor in the successful operation of a modern and efficient cement plant. Increased use of alternative fuels, inhomogeneous raw materials and special operating conditions influence clinker chemistry and lead to a tough environment inside the kiln and clinker cooler often resulting in higher risks of build-ups and uneven clinker distribution. IKN's KIDS4.0 comprises important features to cope with all different clinker types including agglomerations and fine clinker.
The main features of the KIDS4.0 are:
The variable slope between 15° and 10° addresses the higher amount of fine material
KIDS4.0 is the only fixed inlet suitable to incorporate Inlet Motion Devices (IMDs)
The Coanda Wing®-Technology provides improved airflow and lowers the risk of blockages/clogging
The KIDS4.0 is aerated by individually arranged compartments
KIDS Variable slope 10° - 15°
Partially movable segments in the KIDS4.0 surface mobilize static and immobile material onto the movable grate. Operator activation of individual segments dislodges snowman formations effectively at an early stage. The remaining material agglomerations are torn away together with the rest of the clinker bed and moved by the movable grate to the cooler discharge.