With the integration of the pyro activities of PSP Engineering in 2010, IKN carries on a tradition in the design and fabrication of rotary kilns dating back to 1951.
IKN supplies rotary kilns with either two or three support piers. Kiln tyres and radial rollers support the kiln and transfer loads to the piers.
Kiln dimensions are selected to minimize stresses and ensure long kiln lifetime. The kilns are driven by a girth gear. Hydraulic kiln thrust rollers maintain a controlled movement of the kiln in the axial direction.
Kiln inlet and outlet ends are equipped with replaceable segments. Both ends of the rotary kiln are fitted with seals to protect it against the intrusion of false air.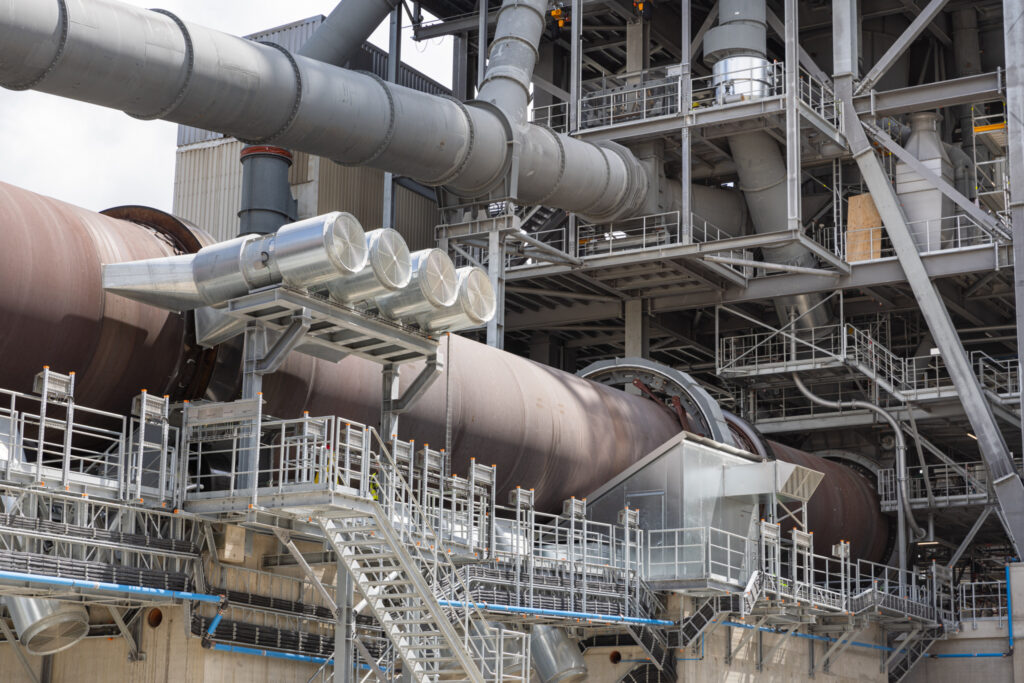 Kiln drives are available as a single or double pinion. The number of pinions depends on the size and capacity of the kiln.
The kiln drive provides even rotation of the kiln through the girth gear which is fixed to the kiln shell by tangential springs to compensate for thermal expansions of the shell. The drive consists of an electric motor with frequency converter, gearbox, couplings and an auxiliary drive. A diesel engine can be added as an auxiliary drive. The pinion and girth gear are grease lubricated.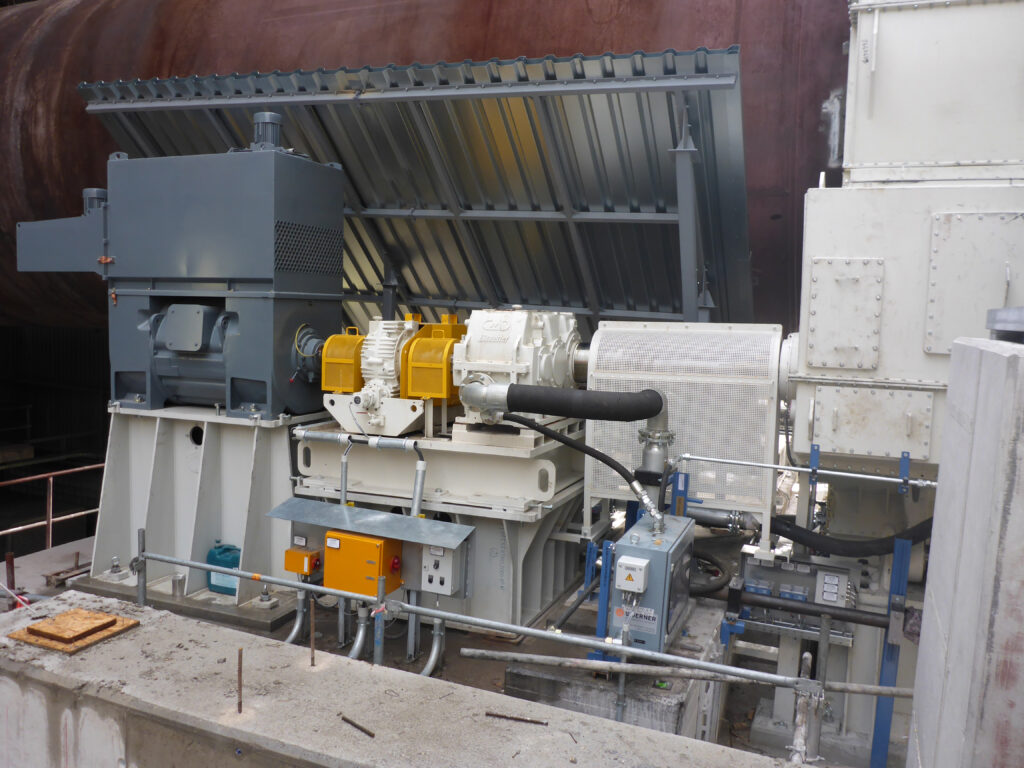 IKN offers rollers up to 3,000 mm for installation in kilns, rotary coolers, and dryers. The rollers incorporate anti-friction slide bearings.
A typical forged or castes radial roller is seated in slide bearings with water cooled spherical supports. The arrangement of separate bearings provides reliable operation and easy alignment on site.
Thermocouples monitor the temperature of the main equipment and wear is reduced by continuous lubrication. Heat-shields are installed to protect the bearings from radiant heat from the shell.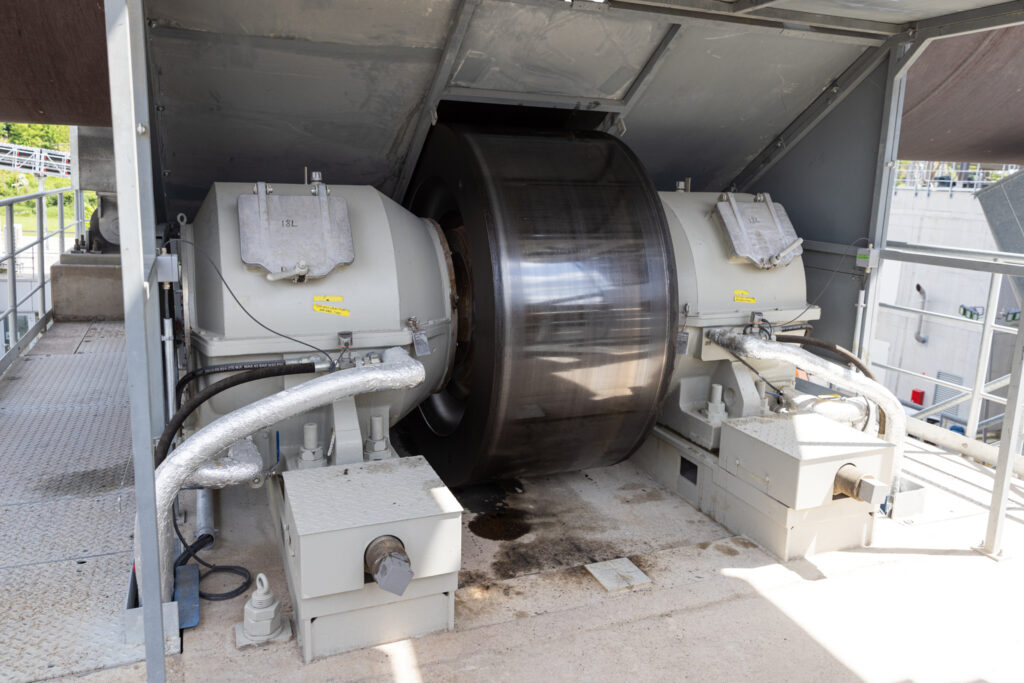 IKN has designed and delivered thrust rollers for rotary kilns to various suppliers.
The hydraulic thrust roller provides controlled movement of the rotary kiln in its axial direction. This movement provides uniform loading over the working surface of the supporting rollers and prevents uneven wear of radial rollers, tyres, girth gear and pinion.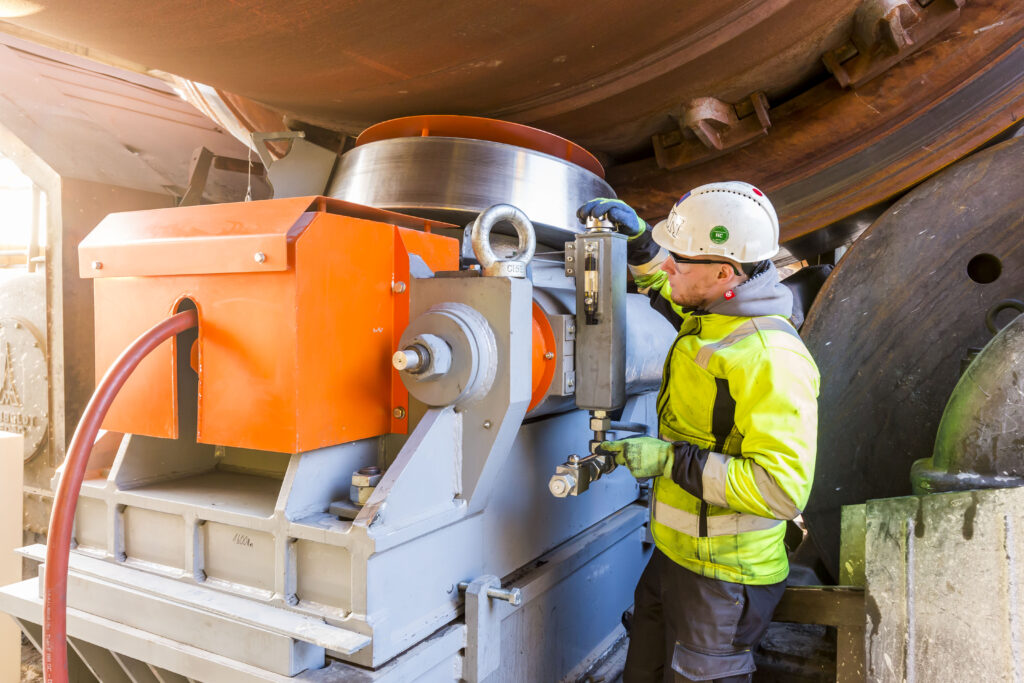 IKN's kiln outlet seal provides an efficient and reliable solution for connecting the kiln and kiln hood. The seals are installed in cement plants worldwide.
IKN's lamella seal is installed at the discharge end of the rotary kiln and is attached to the existing kiln hood. A cooling ring is mounted on the kiln outlet shell. It provides a surface for the lamellas and channels the air for cooling of the nose ring segments. An annular cooling duct equipped with nozzles provides air to the lamellas and the nose ring segments of the kiln during operation.